2012 Program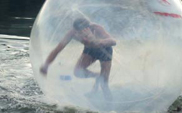 It's showtime for Kinofestnyc 2012! And, as the curtain rises, Kinofest invites you all to a very exciting, very special, introductory event. Come meet this year's festival filmmakers. Headlining the evening will be Ukraine's own, Maryna Vroda, whose Cross Country won the Best Short Film award at the Cannes 2011 Film Festival. A screening of Cross Country and another of her short films, The Rain will start the evening, followed by a Q&A with Maryna. Then, other award-winning filmmakers will be introduced: Jakob Preuss (Berlin), director of the film The Other Chelsea- A story from Donetsk; Volodymyr Tykhyy (Kyiv), director of the short film Hamburg and producer of the 'Goodbye, Ukraine!' film collective; Julia Shashkova (Kyiv), Almost Love; Michael Nikitin (Brooklyn) Christmas with Fritz Dubert; and Dmytro Zakharevych (Kyiv), Kinofest's film coordinator in Ukraine. Lastly, everyone will be invited to an informal reception area where the audience can mingle with the filmmakers and enjoy wine and yummy snacks catered by Veselka.




A boy running through the woods with his physical fitness class ditches the safety of his group. When he continues on alone, we get to see through his eyes his reality and an unapologetic portrayal of his world. Director: Maryna Vroda, 15 min., Russian (w/Eng. subtitles), 2011, Ukraine
Winner: 2011 Palme d'Or du court metrage, Cannes International Film Festival



A torrential rain unearths the enduring love a seemingly gruff, elderly man has for his wife. Director: Maryna Vroda, 12 min., Ukrainian (w/Eng. subtitles), 2007, Ukraine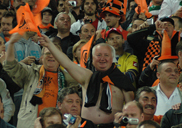 Filmmaker Jakob Preuss skillfully uses the sudden success of eastern Ukraine's Donetsk soccer team, Shakhtar, to reveal the links between Donetsk's politics, business and sport. He often, and successfully, employs humor to show the discordant worlds of Donetsk's oligarchs with their increasing wealth and the abject poverty and deteriorating working conditions of its coal miners. He then shows how these two worlds meet in the Donetsk soccer stadium. Preuss has that rare but essential gift for a participatory documentarian: His subjects open up to him on camera. Miners reveal their bitter discontents; a middle-aged, unmarried couple tenderly bare their love for each other; and an up-and-coming, spin-spouting politician, suddenly realizes he may have over-disclosed. This makes for a gem of a documentary.

Director: Jakob Preuss, 87 min, Russian (w/Eng. subtitles), Germany, 2010, website

Director Jakob Preuss will introduce his film and be present for discussion and Q&A

This screening is made possible through the support of the Robert Bosch Stiftung.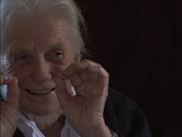 No, the Woman is not a circus trainer. She's Kyiv-born 86-yr.-old Svetlana Geier, a world-renowned Fyodor Dostoyevsky scholar. And the elephants are five of Dostoyevsky's major works that Svetlana has been translating into German, which has been a 20-year project. As the film opens, she's near completion. Highly intelligent and down-to-earth sweet, Svetlana is fascinating to listen to and watch as she translates collaboratively, prepares meals for her visiting family, or meticulously attends to household chores. Her life story is riveting. We discover, amongst other things, that her father, an agronomist, died a victim of Stalin's purges and young Svetlana, to survive during World War II, became a German translator for the Nazis when they occupied Kyiv. Having relocated permanently to Germany during the war, we get to see Svetlana, as she returns by train to Kyiv nearly 65 years later. A deeply satisfying film.

Director: Vadim Jendreyko, 94 min, German/Russian (w/Eng. subtitles), Switzerland, 2009, website

--- Preceded by the film short:



Set during Stalin's repressive period, an edgy young Russian couple seeks out a secluded priest to baptize their newborn.
Director: Svetozar Golovlev, 18 mins., Russian (w/Eng. subtitles), 2010, Russia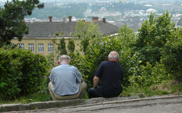 An audience favorite, the post-Soviet shorts session continues Kinofest's tradition of offering our valued viewers a potpourri, a melange of short dramas, animations, experimental, surreal, offbeat... in other words, the unexpected. Being featured this year are works from Poland, Ukraine, Russia, Chechnya, Bashkiriya and the USA.. Enjoy!


The filmmaker uses stop-motion animation to nightmarishly depict a macabre couple whose only delight is watching their coin-operated TV. Director: Maxym Afanasyev, 5 min., Silent, 2011, Ukraine



Society's expectations and roles foisted on us symbolically represented by a surreal sequence of footwear and feet. Director: Serhiy Siliava, 6 min., Ukrainian (w/Eng. subtitles), Ukraine



An ingenious elderly Chechen forages to survive in the wasteland of Chechnya's Russian-artillery-obliterated capital, Grozny. Director: Ruslan Magomadov, 26 min., Russian/Chechen (w/Eng. subtitles), 2012, Chechnya



A sweet, old baba and her simple longing.
Director: Olexandr Rudyk, 1 min., Ukrainian (w/Eng. subtitles), 2011, Ukraine



With wanted posters of him posted all over town, a young criminal on the lam faces a moral dilemma when he finds and then wants to turn in an abandoned infant.
Director: Anna Butozova, 12 min., Russian (w/Eng. subtitles), 2011, Ukraine



The night before Christmas and Tanya discovers her husband Albert holds more surprises for her than just her Christmas gift. Director: Michael Nikitin, 13 min., English, 2010, USA

Director Michael Nikitin will introduce his film and be present for Q&A




Animation with a stark, disturbing post-apocalyptic theme.
Director: Mykyta Liskov, 10 min., Silent, 2010, Ukraine



Equipped with a metal detector, two elderly Polish brothers travel to the city of Lviv in search of their parents' legendary buried treasure. The problem is it's almost 70 years later and a lot has changed. A humorous adventure.
Director: Angieszka Bak, 20 mins., Polish/Ukrainian (w/Eng. subtitles), 2009, Ukraine/Poland



Enchanting, eleven-year-old Rachel is the product of a Ukrainian mother and African father and has big saxophone dreams of leaving Boyarka for America. Director: Svitlana Tymoshenko, 11 min., Russian (w/Eng. subtitles), 2012, Ukraine



The main event in a picturesque Bashkir village is the weekly film showing at the local recreation center. This delightful tale revolves around film-day's most passionate fan, a boy nicknamed 'disco dancer.' Director: Aynur Askarov, 21 min., Bashkir (w/Eng. subtitles), 2010, Russia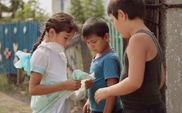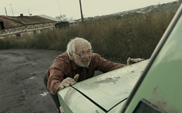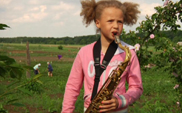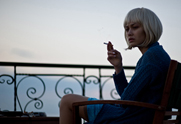 This engaging narrative feature film is about the nuclear plant disaster at Chernobyl and its affect on Pripyat residents told primarily through the eyes of a young bride, now a Chernobyl widow, Anya (Olga Kurylenko, 'Quantum of Solace'), and Valery, the son of a disappeared scientist. Pripyat, once a thriving city of 50,000, built to house Chernobyl workers, became a ghost town after the meltdown. Ten years later finds Anya working as a guide showing tourists around a less toxic Chernobyl and Pripyat and Valery still searching for his father. But Anya's at a crossroads. She can stay and marry her Ukrainian lover, Dmitri, who's rebuilding a life in Pripyat or try to escape past horrors by marrying her French lover, Patrick, and moving to Paris.

Director: Michale Boganim, 108 min, Ukrainian/Russian (w/Eng. subtitles), France, Ukraine, Poland, Germany, 2011

--- Preceded by the film short:



Rough but riveting footage of Chernobyls aftermath captured by filmmaker Vladimir Shevchenko just days after the explosion. Shevchenko died from radiation exposure soon after shooting the film.
Director: Vladimir Shevchenko, 18 mins., Silent (w/Eng subtitles), 1986, Ukraine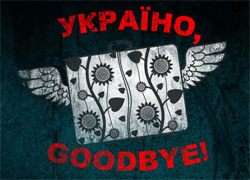 Since gaining independence in 1991, the population of Ukraine has declined by 6 million people due to emigration. A recent survey indicates that, given the choice, over one third of Ukrainians would leave their country permanently, with nearly half of younger Ukrainians (18-29 years of age) indicating they would like to leave for good. In 2011, filmmaker Volodymyr Tykhyy started the film project Goodbye, Ukraine! in response to this trend in Ukrainian emigration, with the goal of the project being to allow filmmakers to explore the social, cultural, political and humanitarian reasons why Ukrainians are leaving their country en masse. To date, ten short films have been completed, with more on the way.


Volodymyr Tykhyy will be present for this screening and will be available for discussion and Q&A.




A recent widow reconsiders relocating abroad after a most unusual culinary encounter.
Director: Larysa Artiuhina, 10 min, Ukrainian (w/Eng. subtitles), Ukraine, 2011, golddust@i.ua



An old, solitary, village man anticipates his daughter's return to partake in an annual, intimate, father-daughter ritual.
Director: Dmytro Suholytkyj-Sobchuk, 25 min, Ukrainian (w/Eng. subtitles), Ukraine, 2011, dmytro_suholytkyj@ukr.net



A Ukrainian hospital fulfills the adventurous fantasies of one of its patients... partially
Director: Volodymyr Tykhyy, 6 min, Ukrainian (w/Eng. subtitles), Ukraine, 2011



The tedium of small-city family life inspires a middle-aged woman to consider working abroad.
Director: Valeriy Shalyha, 10 min, Ukrainian (w/Eng. subtitles), Ukraine, 2011



Fifteen-year-old Anya has a secret crush on the boy next door. She suddenly discovers that he's emigrating from Ukraine and doesn't have anywhere to leave his dog.
Director: Julia Shashkova, 10 min, Ukrainian (w/Eng. subtitles), Ukraine, 2011



Every day, recluse Bohdan begs God to exact severe justice on all the scoundrels on earth. At last, his prayers are answered.
Director: Volodymyr Tykhyy, 21 min, Ukrainian (w/Eng. subtitles), Ukraine, 2011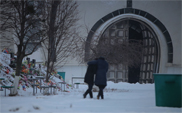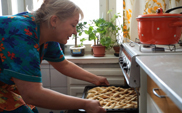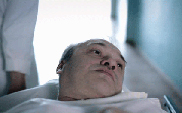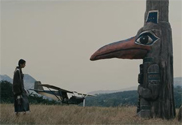 This romantic ballad based on a real, heroic Ukrainian, features Ivan, who after being released from a German prisoner-of-war camp, is banished to a Gulag by Stalin. Ivan miraculously escapes and winds up in Canada where he becomes a chief of an Indian tribe. Some years later, Ivan meets a Soviet delegation in Canada as chief of the tribe. The delegation is shocked and baffled with this Indian chief who speaks fluent Ukrainian.

Director: Mykhailo Illienko, 110 min, Ukrainian/Russian/English (w/Eng. subtitles), Ukraine, 2011